HUR Exercise Equipment for Inclusive Fitness & Adaptive Training
HUR exercise equipment and solutions are ideal for inclusive fitness and adaptive training through innovative technology, evidence-based design, and space economizing benefits, all backed by the consultative services, installation, and support of the HUR USA team.
Key Benefits for Inclusive Fitness Trainers and Professionals
Our technology allows your organization to achieve positive outcomes in inclusive fitness and adaptive training, engagement and participation, and facility management.
Create Training Initiatives that Builds Results
Differentiate and excel with unique strength training and wellness initiatives. With HUR, organizations are equipped to implement a results-based inclusive fitness training programs and wellness initiative that is data driven
Increase Inclusive Fitness Participation
HUR makes independent training less intimidating, empowering and motivating athletes with different abilities and special needs to take charge of their health with enhanced engagement.
Optimize Staff Efficiency
HUR's technology and thoughtful programming enables inclusive fitness teams to efficiently manage multiple clients and outcomes through streamlined programming.
Key Benefits for Inclusive Fitness for Athletes
with Different Abilities and Special Needs
Physical & Cognitive Challenges
Traumatic Brain Injuries
Paraplegia
Cerebral Palsy
Multiple Sclerosis
Stroke Survivors
HUR's specialized inclusive and adaptive fitness solutions are backed by 30 years of scientific research in collaboration with leading universities and research centers in physiology and biomechanics.
EASY-TO-USE
HUR SmartTouch, an intuitive touch screen interface, makes strength training easy for athletes with different abilities and special needs. With one swipe of a wristband, the machine automatically loads the client's personalized strength training program, adjusts the seat, and sets the strength training resistance level. HUR SmartTouch makes independent training less intimidating.
HUR dual-function and multi-function strength-training equipment is designed to deliver coordinated training of multiple muscle groups, without moving from machine to machine. HUR dual-function machines are designed with simple access in mind, making it ideal for people with (or without) wheelchairs to switch between exercises for targeted training that builds whole body strength.
SAFETY
Athletes with different abilities and special needs can train harder with lower risk of injury by starting out with zero starting load and gradually increasing resistance by ¼ pound increments. Zero starting load is ideal for beginners and early initiation of rehabilitative therapy
Every part of our equipment has been designed with safety in mind:
Easy access hand grips
Foot support and safety belt
Adjustable back support and reversible roller for easy on and off access
Locking Mechanism Base plate allows for safe operation without having to be fixed to the floor
Zero starting load and small incremental adjustments (as low as ¼ lbs.)
Range limiters help ensure a safe and effective workout.
INCLUSIVE FITNESS
With HUR SmartBalance customized setting options make it easy for inclusive fitness professionals to create targeted, personalized inclusive training programs.
Fun, interactive stabilization games that build core strength and muscle memory
Easy access with low step, support rail, and safe, wide platform.
Touch screen adjustments make changing between activities and difficulty levels simple.
Exercise Technology Solutions for Positive Outcomes
Featuring Innovative Evidence-Based Design
HUR's most in-demand solutions for Sports & Performance facilities:
A Trusted Partner in Your Success
• Engagement & Participation
• Global Health & Wellbeing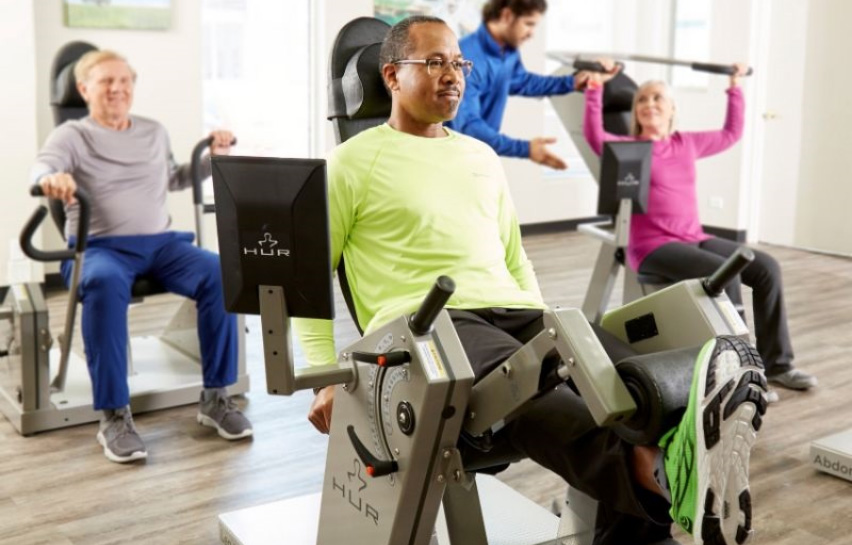 How Can HUR Become a Partner in Your Success?
Contact HUR for a personalized wellness strategy consultation at (847) 729-2636.