Senior Living & Active Aging
HUR Exercise Equipment for Senior Living & Active Aging Communities
The changing older adult demographic and healthcare's new outcome-driven demands create opportunities for senior residents and senior living professionals to differentiate and excel with unique strength training and wellness initiatives.
Key Benefits for Senior Living & Active Aging Facility Teams
Our technology allows your senior living organization to create a powerful wellness initiative that is scalable across multiple communities, leveraging your company's commitment to the health and well-being of your residents.
Create a Wellness Initiatives that Build Results
Differentiate and excel with unique strength training and wellness initiatives. With HUR, organizations are equipped to implement a results-based wellness initiative that is data driven.
Increase Wellness Participation
HUR makes independent training less intimidating for seniors, empowering and motivating them to take charge of their health and commit to a healthy routine.
Optimize Staff Efficiencys
HUR's technology offers an easy way for wellness teams to create and manage clients' training programs, monitor individual progress, and automatically track outcomes over time. This frees staff to spend more time on personal training, wellness classes, or other important care functions.
Retain & Attract Residents
Forward-thinking senior living, active aging, and rehabilitation providers are rising to meet the "next generation's" demands for pro-actively aging and living well by offering innovative wellness programs, including senior-specific rehabilitation and proactive strength-building programs.
Providing modern amenities for the Baby Boomer generation is key for our aging population.
Increase Length-of-Stay
For managers and operators of senior communities, maintaining resident occupancy and length-of-stay is key to healthy business revenue over time.
Key Benefits for Senior Living & Active Aging Facility Residents
HUR's specialized senior strength training solutions are backed by 30 years of scientific research in collaboration with leading universities and research centers in physiology and biomechanics.
Disease Management
Strength training can be a crucial component to disease management.
With HUR's solutions, you can help your residents combat chronic disease, improve their quality of life, and avoid injuries.
Fall Reduction
Strength and balance training can dramatically help decrease the number of falls and resulting injuries in older adults.
Studies have shown that a progressive resistance training program using HUR equipment, plus balance exercises, have reduced the rate of falls by 55%. Check out our clinical summary on Progressive Resistance and Balance Training for Falls Prevention in Long-Term Residential Aged Care Facilities for more information.
Improved Quality of Life
lowing physiologic changes of aging
Optimizing age-related changes in body composition
Promoting psychological and social well-being
Managing chronic disease
Reducing risk of physical disability
Increasing longevity
Increasing bone mass
Reducing chance of developing osteoarthritis
Exercise Technology Solutions for Positive Outcomes
Featuring Innovative Evidence-Based Design
HUR's most in-demand solutions for Senior Living & Active Aging communities:
A Trusted Partner in Your Success
• Engagement & Participation
• Global Health & Wellbeing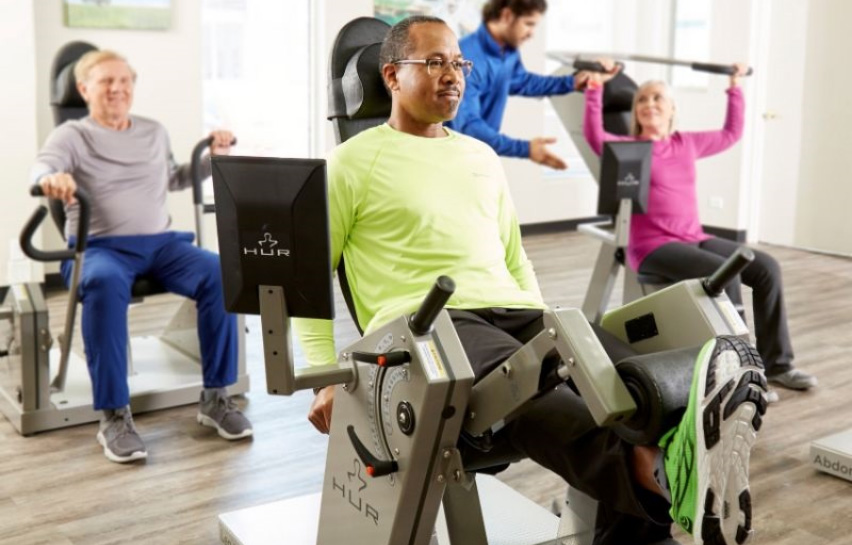 How Can HUR Become a Partner in Your Success?
Contact HUR for a personalized wellness strategy consultation at (847) 729-2636.